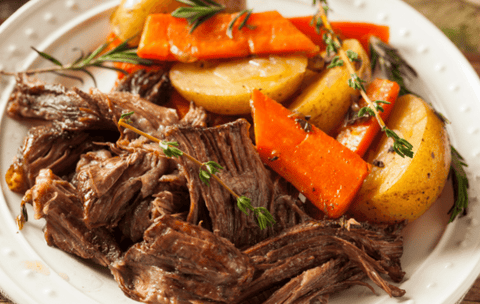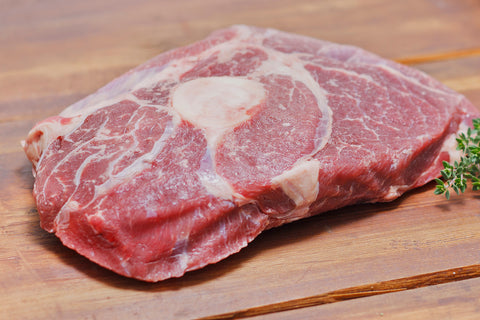 Chuck Roast
Tantalize your taste buds with our succulent and savory Chuck Roast!
Enjoy the incomparable flavor of 100% grass-fed, locally-raised beef, cooked low and slow in a crockpot, instant pot, or covered roaster to create a melt-in-your-mouth experience.
Protocols:
100% Grass-fed & Grass-finished.  
Humanely raised from birth to harvest on Old Time Farm.
No added hormones.
No antibiotics
USDA processed at a local family butcher shop, vacuum packaged & frozen.
Your Purchase Helps Conserve Biodiversity
Old Time Farm is dedicated to preserving old-fashioned slow-growing heritage breed American Milking Devon cattle, Partridge Chantecler chickens, and Standard Bronze turkeys along with the native plant & animal species found on the farm.
Your purchase supports Old Time Farm's conservation efforts while bringing a true "Taste of History" to your table.
Do you feed grain to your cattle?
No.
High quality grass, hay, & minerals naturally fatten healthy Old Time cattle - no grain needed.
Yes.
For maximum freshness, meat is vacuum-packaged and frozen right after cutting by the butcher.
Delivery is available in select areas of Pittsburgh and Butler, Allegheny, and Mercer counties along I-79 and Route 8.
If you are not in the areas we deliver to, you can pick up your order at the Bloomfield Farmers Market in Pittsburgh.
No shipping.
How much is home delivery?
Home delivery is $10.
Get free home delivery on orders over $100 or orders picked up at the Bloomfield Farmers Market.
Delivery days are on Saturday.

You select the Saturday you want your order to arrive at checkout.
You will receive an email Friday morning with the approximate time your order will arrive on Saturday.
What should I do if I will not be home for my delivery?
Set out a cooler and your order will be placed in it.
Beef stew is not just a winter meal anymore! I am trying to find more meals that do not require using an oven or long cooking in a stove top this summer so fixed beef stew this week (mid-August) using my instant pot. The chuck roast chunks had SO much flavor and were tender. Lots of additional seasoning not needed with this beef to make it delicious.
Awesome roast
I made slow cooker barbacoa with the chuck and it was wonderful. 6-8 hours in the crockpot and didn't need to cut it before. Then it just pulled apart. Everyone loved it
Thank you, Caroline! I am so glad you enjoyed it!
Beef Chuck Roast
Shedded beef with homemade gravy. The beef was lean but still tender and flavorful. After a quick sear it spent the day in the crockpot with a cup of water which made perfect gravy.
Cuban Ropa Vieja with Chuck Roast
Hidden under all those peppers and onions is a chuck arm roast. Easy, delicious, and a little spicy. Serve over rice
Old Time Farm chuck roast - perfect for winter!
I like to slow cook Shelly's chuck roast and short ribs together, seasoned with Lipton Onion Soup Mix, onions and garlic. Served with gravy made from the drippings over Bob Evans mashed potatoes (a quick weeknight solution to homemade), this is a winner every time!