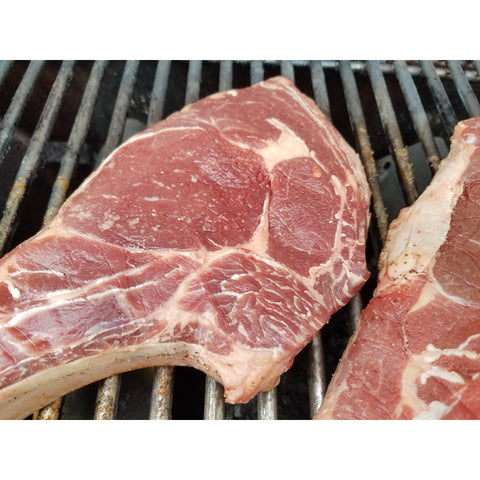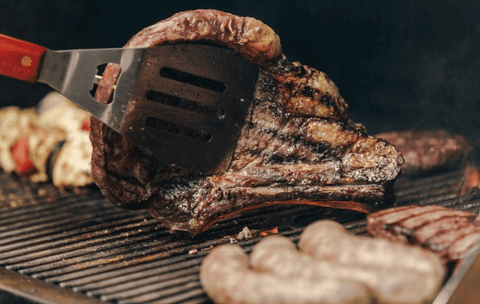 Ribeye Steak Bone-in
Bone-in ribeye is a true steak lover's delight! Fry in tallow or butter in a hot skillet for the most control, or fire up the grill. This cut is also used for Prime Rib, while its boneless version is known as Delmonico.
Protocols:
100% Grass-fed & Grass-finished.  
Humanely raised from birth to harvest on Old Time Farm.
No added hormones.
No antibiotics
USDA processed at a local family butcher shop, vacuum packaged & frozen.


Your Purchase Helps Conserve Biodiversity
Old Time Farm is dedicated to preserving old-fashioned slow-growing heritage breed American Milking Devon cattle, Partridge Chantecler chickens, and Standard Bronze turkeys along with the native plant & animal species found on the farm.
Your purchase supports Old Time Farm's conservation efforts while bringing a true "Taste of History" to your table.
Do you feed grain to your cattle?
No.
High quality grass, hay, & minerals naturally fatten healthy Old Time cattle - no grain needed.
Yes.
For maximum freshness, meat is vacuum-packaged and frozen right after cutting by the butcher.
Delivery is available in select areas of Pittsburgh and Butler, Allegheny, and Mercer counties along I-79 and Route 8.
If you are not in the areas we deliver to, you can pick up your order at the Bloomfield Farmers Market in Pittsburgh.
No shipping.
How much is home delivery?
Home delivery is $10.
Get free home delivery on orders over $100 or orders picked up at the Bloomfield Farmers Market.
Delivery days are on Saturday.

You select the Saturday you want your order to arrive at checkout.
You will receive an email Friday morning with the approximate time your order will arrive on Saturday.
What should I do if I will not be home for my delivery?
Set out a cooler and your order will be placed in it.
Delicious Ribeye!
I have some of these ribeyes in my freezer. I thawed 6 of them for a cookout on our charcoal grill last night. I prepared them by first patting them dry, then seasoned one side with Traeger's beef rub, and the other side with kosher salt, pressing the seasonings into the meat. I left the seasoned meat out on a tray for 45 minutes at room temperature before grilling. Everyone at our table really enjoyed them and thought they tasted excellent! I'm glad I have more of them in my freezer!
I am so glad you enjoyed them, Kim!