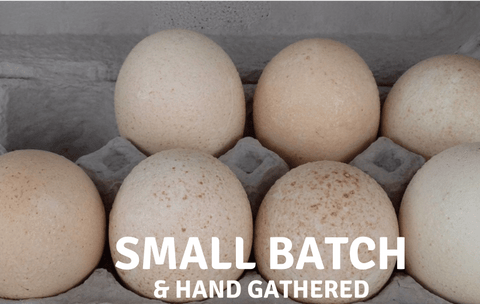 Free Range Turkey Eggs - sold out til 2024
Enjoy the rich and creamy flavor of our Free Range Turkey Eggs! Our hens, the endangered heritage Standard Bronze Turkey, have been hatched & raised in family groups on Old Time Farm since 2013 without antibiotics or hormones and provided a custom, nutrient-dense feed to support reproductive health. Each jumbo egg is 1 1/2 times larger than the average chicken egg and beautifully speckled. Are you ready to enjoy a distinctive taste of history?
Your Purchase Helps Conserve Biodiversity
Old Time Farm is dedicated to preserving old-fashioned slow-growing heritage breed American Milking Devon cattle, Partridge Chantecler chickens, and Standard Bronze turkeys along with the native plant & animal species found on the farm.
Your purchase supports Old Time Farm's conservation efforts while bringing a true "Taste of History" to your table.
Do you feed grain to your cattle?
No.
High quality grass, hay, & minerals naturally fatten healthy Old Time cattle - no grain needed.
Yes.
For maximum freshness, meat is vacuum-packaged and frozen right after cutting by the butcher.
Delivery is available in select areas of Pittsburgh and Butler, Allegheny, and Mercer counties along I-79 and Route 8.
If you are not in the areas we deliver to, you can pick up your order at the Bloomfield Farmers Market in Pittsburgh.
No shipping.
How much is home delivery?
Home delivery is $10.
Get free home delivery on orders over $100 or orders picked up at the Bloomfield Farmers Market.
Delivery days are on Saturday.

You select the Saturday you want your order to arrive at checkout.
You will receive an email Friday morning with the approximate time your order will arrive on Saturday.
What should I do if I will not be home for my delivery?
Set out a cooler and your order will be placed in it.